Organize a consultation
Get this service if you would like to quickly meet (via videoconference or in person) with a lawyer to discuss your situation. This includes a 1 hour consultation during which you can explain your situation to the lawyer and get advice on how to move forward for CHF 200.
Purchase this voucher to get a consultation with a lawyer.
Note: If the case is complex, the lawyer will establish a quote that you are free to accept or reject.
Consultation
A lawyer will contact you within 24 business hours to organize the Consultation.
Interactions with a lawyer outside of the Digilegal platform are not under Digilegal's control and are covered by attorney-client privilege. Any service purchased from the lawyer outside digilegal.com will be invoiced directly by the lawyer.
Why use Digilegal?
Ask any legal question
Our partner lawyers advise you in all areas of the law
Get a reply within 24 hours
You receive a legal answer or be connected within 24 hours (office hours)
Affordable and transparent prices
Our prices are transparent and fixed. No surprises.
Great customer care
You benefit from attentive customer service to ensure your satisfaction
Their experience with Digilegal
K.K. (4 nov 19)

Very easy to use platform! In a few clicks I was able to ask my questions and take out a subscription! I did not expect such detailed and structured answers in such a short time

R.S. (8 nov 19)

I needed legal advice quickly and I was able to simply get a precise answer in less than 2 hours

M.B. (10 nov 19)

I congratulate you digilegal you keep your promises. thank you very much for helping you to be the best. I have been following your site for a month and have not regretted it. Thanks again digilegal.

F.B. (4 dec 19)

Amazing experience with digilegal. I asked a quite complex corporate law question involving a wide range of aspects, and I received a very detailed explanation within 24 hours

C.S. (8 dec 19)

I was surprised by the speed of the response! My need was well identified despite the few contextual elements. The response was comprehensive, relevant and reassuring. I am completely satisfied! thanks a lot

A.M. (7 feb 20)

A question by email, a pleasant contact in less than 30 minutes and a leading response in barely 24 hours. Gladly another time
They are talking about us
PME Magazine
29 Janvier 2020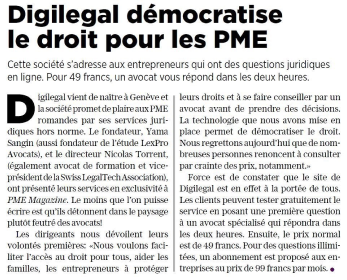 AGEFI
19 Mars 2020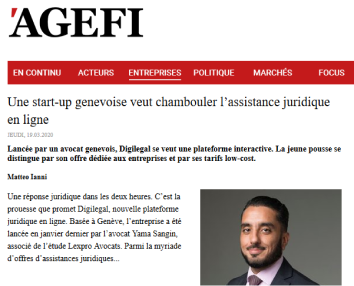 Assistance
Would you like some assistance to ask your question or to use our service? Call us, we're here to help!
+41 22 552 00 82